It's hard not to be captivated the moment Jasper The Doll pops up on your TikTok For You page. The supposedly 22-year-old character lives in the shell of an unrecognizable Anna from Frozen doll, which is covered in pen marks and sports short, spiky hair. With a hoarse voice and an air of chaos, she defies all expectations of a typical Barbie doll. But if you stick around to watch her videos, you'll discover that #JasperTok is actually about helping heal your inner child.
She might look like the sort of thing that only appears in your nightmares, but in actuality, Jasper loves to bake, make videos and watch TV and overall just feel herself. More than one million followers have fallen in love with Jasper, living vicariously through her unhinged behavior, buying swag from her merch line and even creating accounts dedicated to impersonating her.
In a sea of JasperTok videos, there is one that gets to the core of her wholesome messaging. In this particular video, Dani Traci, a creator whose content is mainly comprised of duetting and impersonating Jasper, is in the middle of transforming into her Jasper form. With the "therapy dupe" sound playing in the background, the text across the screen reads: "POV: JasperTok healing our goofy-gremlin-inner childs so we can embrace being our silly & weird selves."
Beyond the wild makeup, the eccentric hairstyle and the unapologetic silliness, Jasper The Doll resonates with a deeply vulnerable part of ourselves that's often suppressed. Particularly for AFAB (assigned female at birth) individuals and those who identify as women, she embodies the playful, child-like aspects that defy societal expectations of how a "proper adult woman" should behave or sound. So, while at first glance, Jasper The Doll might seem "weird," if you look closer, you'll discover a profound message of self-acceptance.
Jasper The Doll is just one signal for something that we're experiencing more broadly as a culture. Jasper runs alongside other "weird" trends like "goblin mode," which spawned an entire industry around Goblincore, taking an aesthetic and turning it into an identity that others can buy and adopt for themselves. Goblin mode, very much like Jasper The Doll, expresses a desire to create something that feels real and authentic in a digital world that feels artificially performative.
Over the past few years we've experienced massive trauma across the board: lockdowns, job losses, deaths, economic surges and downturns, inflation, protests, elections, human wars and tech wars, the list goes on. It has affected our social circles, our mental health and our physical health, and it's made us react in some so-called "weird" ways. From Seltzer Enema kits to naked bike rides; AI boyfriends to mammoth meatballs, these signals are a push towards the rejection of conformity, and they come from a hidden desire for something new and meaningful that does not yet exist in the open. 
At Concept Bureau, we often call upon the Mark Twain quote, "History doesn't repeat itself, it rhymes," meaning what we're seeing is not entirely new. Marie Dollé from the In Bed With Social newsletter talks about how we've been here before when Poulaines, the unusually long and pointy shoes from Medieval times, became popular following the violent and deadly episodes of the plague. With so much death, she writes that the "puzzling flamboyance" of Poulaines was a direct "business therapy" response to this tragedy.
In our post-pandemic world, we are currently experiencing something similar, and in "Internet world," we get to see all kinds of these weird signals in hyperdrive. Erik Davis on The Ezra Klein Show recently spoke about "high weirdness," saying that "'weirdness' isn't just a quality of things that don't make sense to us; it's an interpretive framework that helps us better understand the cultures and technologies that will shape our wondrous, wild future." Weirdness is here to stay, and now is the time to embrace it. 
For brands, when you pay attention to the weird and lean into it, you uncover opportunities that you may not have noticed before. What at first feels uncomfortable can lead you to opportunities to tell new stories and create new realities relevant to your brand. Once you push past the veil of oddity, you will find hidden truths, emotions and beliefs that can help you reach your audiences in intimate ways. In playing with "what could be" as opposed to "what has been," you can forge pathways that feel more authentic to your audience.

Just as Jasper The Doll is healing the inner children in all of us, Rememory leverages AI to help people find healing after the passing of their loved ones. Unlike a static pre-recorded video message left by your loved one before they pass, Rememory recreates their likeness so that you can have a conversation with them in real-time. This is the sort of weird we've long imagined and even feared, but companies like Rememory are creating a new narrative by crafting an emotional experience that counters our sci-fi fantasies.

Famously, Kanye West gifted Kim "a special surprise from heaven" years ago – a birthday message from her late father Robert Kardashian. Although it wasn't interactive like Rememory's offerings, there were moments that tapped into the intimacy of their relationship. The hologram of her father didn't just wish her "happy birthday," he also called out specific things that only the two of them could share, like the music they listened to and inside jokes. 
Despite all of the criticism, backlash, and "spookiness", some related to Kim's experience:



In a Western culture that does not know how to process death and loss, it is no surprise that Rememory was named CES' Innovation Awards Honoree twice. It's not that death is just taboo and morbid, our culture simply lacks the rituals and language to move through it. 
As Concept Bureau CEO & Co-Founder Jasmine Bina mentions in her article about shame stories, when you aren't just dismantling the narrative but providing another one, you are creating a new reality for your audience. 
For Rememory, by repositioning death as immortality, what at first was weird is now healing. More importantly, it's creating a whole new way of experiencing the bereavement process that never existed before. 
Leaning into the weird doesn't just mean healing. In fact, weird can actually be used as a form of play to imagine new narratives for self-expression and creativity.  
In an era in which face filters perpetuate uniform beauty standards, Half Magic Beauty  champions weird as a way to express our unique individual beauty. Born from the popularity of founder Donni Davy's inventive makeup looks on HBO's Euphoria, Half Magic Beauty has become synonymous with play. On TikTok, #EuphoriaMakeup has over 2.4 billion views with countless videos and tutorials of people not only recreating iconic looks from the show but also exploring new unique forms of expression through makeup. 
For Half Magic Beauty, to play with makeup isn't to meet the expectations of others, it's a true reflection of identity and self manifested through shimmery blue shadows and gemstones. Where conventional beauty standards dictate conformity, Half Magic Beauty's offerings promise to help unleash your creative freedom.

Half Magic Beauty isn't a weird brand, they're an imagination brand: a direct response, rejection and reimagining of long-standing beauty norms, transforming weird into a wellspring of creativity.

Another example of weird making waves in the creative space took place during the Autumn/Winter 2023 New York Fashion Week. Collina Strada notably diverged from convention with a shocking runway show titled, "Please Don't Eat My Friends, which featured models costumed as animals, not merely strutting down the runway but crawling, prancing and skipping. Spectators were stunned as models displayed eccentric accessories like elongated earpieces, teal beaks, reptilian masks and pig snouts, some even mimicking animal sounds.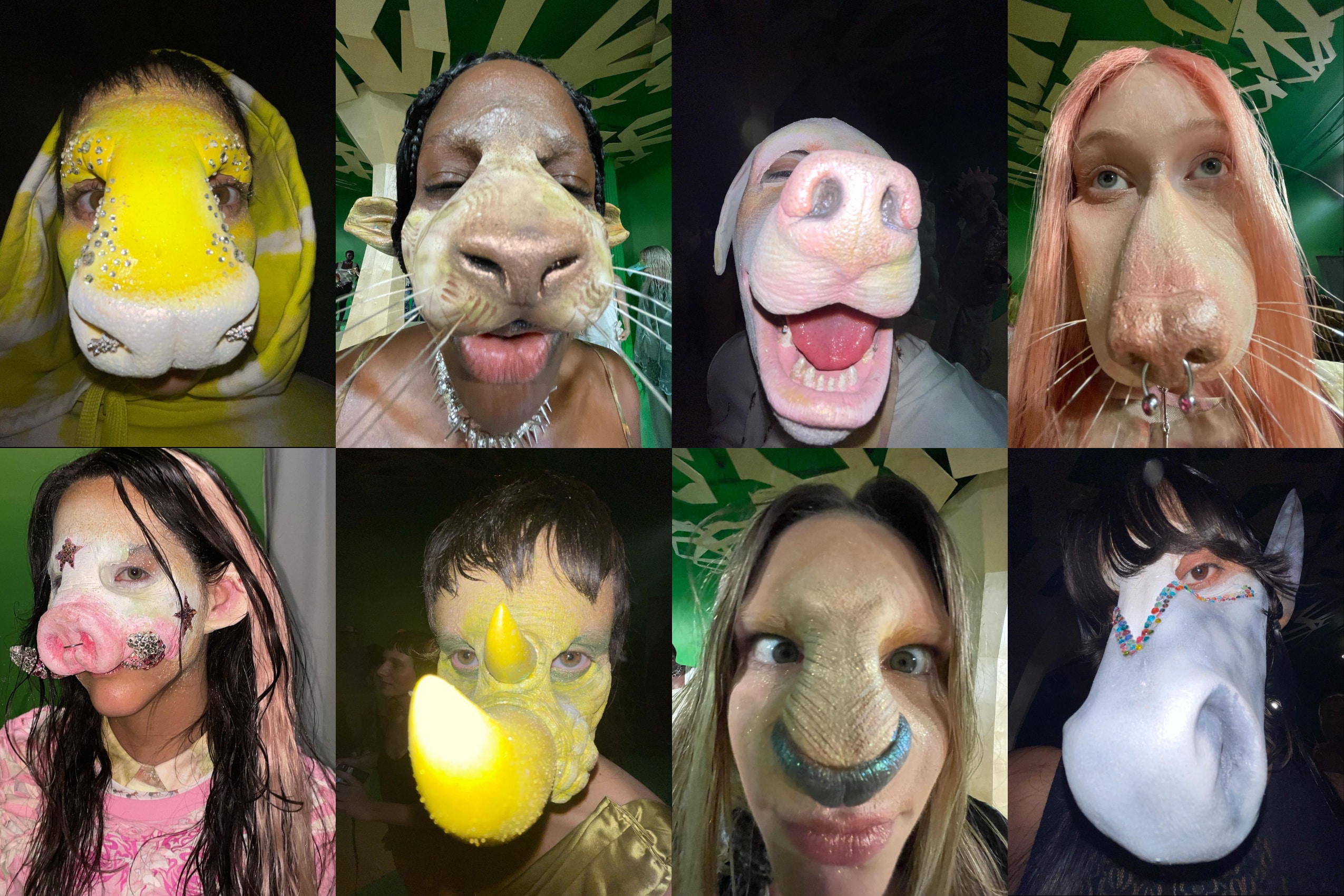 The show was criticized by some for being weird and a "nightmare" while others were "obsessed" and called it "fantastic." No matter what side you're on, Collina Strada leveraged weird as a way to elicit a reaction and make a political statement in a new way. As Vanessa Friedman from The New York Times said, "…rather than hector or preach her position, Ms. Taymour made its expression almost radically ridiculous, so it is impossible not to smile." For a sustainable brand in an industry in which greenwashing is pervasive, Collina Strada created differentiation in a crowded category.  
People costumed as animals might look radically ridiculous in the physical world, but in the virtual world, the opportunities to create new rules of expression are encouraged. 
Despite what we think about the current state of the metaverse, gaming in virtual worlds is thriving more than ever. Today, half the world's population is actively involved in virtual worlds, and if you pay close attention, we are surrounded by many different weird signals that suggest we are already in some ways "living in the metaverse." 
Take the meteoric popularity of Fortnite, an online survival game. While the game itself is free, according to a LendEDU survey, nearly 60% of players spend money on outfits, skins and characters. On the surface, that might not seem that strange, but with the ability to look like anything or anyone you want, 52% of Gen Z gamers report they feel more like themselves in the virtual worlds than in real life. This has huge implications, especially for those who experience gender dysphoria. 
In virtual spaces, people have the freedom to experiment with their appearance and make their true selves visible. This is more than paying for self-expression, it's about finding identity. 
We are currently living in a time when the lines between fantasy and reality are blurring and virtual worlds are creating room for new rules of self-expression and identity. Success in virtual realms like the metaverse won't be driven by those who adhere to traditional norms but by those willing to establish entirely new ones.
Especially in this age of algorithms and AI when creativity feels questioned by regurgitated versions of Drake and Balenciaga x (insert pop culture) AI videos, listening to these weird signals in the noise to tap into net-new forms of creativity is crucial. It's not to say that AI can't be leveraged to your advantage, but as brand strategists, you need to carefully consider how you can continue to create differentiation in your category. 
At our agency, a core phrase that we often tell our clients is to "be different, not better," and with the rate of change that we're experiencing, this rings true now more than ever. 
As we navigate through these transformative times, brands and individuals alike should not shy away from the weird, but rather, embrace it, explore it and celebrate it. Play and experiment, lean into discomfort with curiosity and explore the signals that will lead you into unexpected places. In doing so, you get to redefine and reimagine what is considered the "norm."
So the next time you come across something like #JasperTok, a hologram from beyond the grave or a beak-wearing human in the wild, pay attention rather than dismissing it. Use it as a signal and as inspiration to discover new and unexpected ways your brand can show up in the spaces that matter to your audience. You might learn that the weirdest things are actually the most meaningful.